Latest Audiobook Productions
During the quarantine we continued producing Audiobooks. In this opportunity, two teenage novels written by Argentine authors that are a success in The United States.
The first is "Furia" by Yamil Saied Méndez for the publisher John Marshall Media and the second is "Lobizona"(award-winning of Best Audible Latino Audiobooks of 2020 and nominated for YALSA's  2021 Amazing Audiobooks) by Romina Garber for the publisher Macmillan Audio. Both narrated in English by the actress Sol Madariaga and produced in Planta Baja Studio.
he narrator of an audiobook often enhances the listening experience in unique ways, both through their performance and their understanding of the story.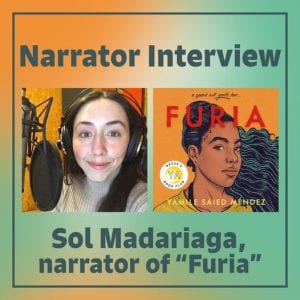 That is certainly true for Sol Madariaga, audiobook narrator for FURIA, who has personal connections to the powerful YA novel. We asked her a few questions about her experience recording the book and her relationship with its setting and characters:
Where did you record the book (city/country, home studio or outside studio)?
Planta Baja Studio in Buenos Aires, Argentina.
What did you do to prepare before you began recording?
"Getting to know your lead's POV and essence at its core will dictate the work you do. I have the benefit of first hand experience with having been to Rosario multiple times and knowing very well the character archetypes that Yamile has put at the forefront of this story."
How well do you know the game of football/soccer?
"There are fundamentally no Argentines that don't know futbol extremely well, even if you haven't played it much past your high school's gym classes (like me), you know the game."
Is it true that your father grew up in Rosario, where the book is set?
"That is true! My father's parents immigrated from Aragon after the Spanish Civil War and settled in Rosario, where my father was born and lived up until he was 18, after which he left to study in the US (like me!)."
Do you feel the author accurately captured the feel of life in Rosario?
"Yamile did a heartbreakingly good job at depicting the macho culture that is very much ingrained in most Argentine provinces. Her handling of Rosario's socio-economic status and the work that still needs to be done to build a safe environment for girls is what makes the world feel so authentic, as she manages to do so without preaching at you but rather putting up a mirror to the city of Rosario."
Do you have a favorite scene or section of the book?
"I cried while reading and recording the airport scene at the end and all of the futbol scenes are a delight to read."
If you could ask the author one question, what would it be?
"Where do I find myself a boy like Diego?!
Ok, two questions. Where's our Karen sequel?
We need to know what happens to our little incorregible."
---